Little Black Dressing of the Goddesses

Every Goddess has that moment when she finds her Little Black Dress—the wardrobe staple of all staples that she wears whenever and wherever she A) is not sure how dressy an event is and wants to look fabulous no matter what the occasion B) is in a last-minute jam and needs to looks fabulous STAT or C) finds herself, on a Friday night, at the end of a stressful week, with the urgent need to get out the door and feel fabulous quickly and can't waste time or brain-power trying to put an outfit together.
Note: A Goddess' Little Black Dress doesn't always have to be black, as you may already know. Sometimes it's actually pink or blue or purple, or white, etc. but it's still considered her Little Black Dress because she can wear it anywhere and everywhere.
It occurred to us that we should have the equivalent of a Little Black Dress in our refrigerators, instead of countless bottles and jars of once-tasted sauces, dressings and marinades that we can't convince ourselves to try again but, for some reason, we hold onto them "just in case." Just like that one skirt that's sitting in the back of your closet, that you've never worn (and know, deep down, you never will) but you're still holding out hope that it'll work with something and for some obscure occasion.
That's when we discovered the Little Black Dressing of the Goddesses. Vivaciously versatile in every way and on everything: as a stylish sauce for burgers, sliders, or chicken; as a refreshing spread for wraps; as a gorgeous dip for appetizers and veggie platters; as an extraordinary marinade for chicken, vegetables, and fish; as a finishing touch drizzled over steamed side dishes like asparagus or broccoli; and then, of course, as it's namesake gives away, as a fabulous dressing for your favorite salad.
It's something like a phenomenon.
That's why we usually make a big batch at the beginning of the week so it's there and ready to go whenever we want to dress up a dish. ☺
Here's a quick how-to: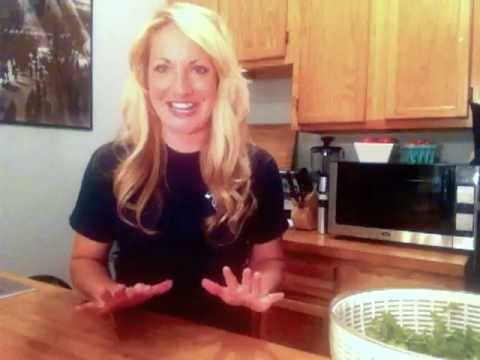 INGREDIENTS (Big Batch):
– 2 Bunches of Fresh Cilantro (washed and with stems cut off)
– 2 Cups plus another 2/3 Cup Greek Yogurt (or just buy 4 single-serving sized 6 oz. containers and scoop it all in)
– 4 Cloves of Garlic, peeled
– 1/3 Cup Extra Virgin Olive Oil
– Juice from Half of a Fresh Lime (or 2 tablespoons of Lime Juice)
– 2 Teaspoons White Wine Vinegar (if you don't have White Wine Vinegar, no worries, Regular White Vinegar will work too)
– 3 Teaspoons of Salt
– 4 Teaspoons of Pepper
– 1 Tablespoon of Crushed Red Pepper (from the Spice Section of any grocery store) – optional if you want to add a little spicy kick to it!
DIRECTIONS:
Start out by scooping out all the Greek yogurt and putting it into your food processor or blender.
Cut each clove of garlic in half and then cut those pieces in half again to roughly chop your garlic. Add garlic to the blender or food processor.
Then, add the white wine vinegar and (if you're a spicy kind of Goddess) add about a tablespoon of crushed red pepper. Add more if you want it spicier and less if you don't want it as spicy.
Add the fresh cilantro. Then cover your food processor or blender and turn it on high for a few minutes until all the ingredients are mixed into liquid form.
Then, add olive oil, salt, pepper, and squeeze all the juice from the lime half into the mixture and blend again on high for about 3-4 more minutes.
SERVING SUGGESTIONS:
Dollop on any dish you want to doll-up! The possibilities are endless!