You know it's been one of those days, when nothing will do but Pizza. You just need it. Easy, cheesy, crispy, warm and saucy Pizza. But you've been soooooooo good this week, passing up the doughnuts at work and hitting the gym, so you really don't want to blow it now… except that you really need Pizza. Now!
For us, that's today.
It's for these very days that there is Pizza of the Goddesses. And the beautiful bonus: it's faster to make than ordering delivery!
To take out any guesswork, here's a quick video with everything you need to know about making Pizza of the Goddesses.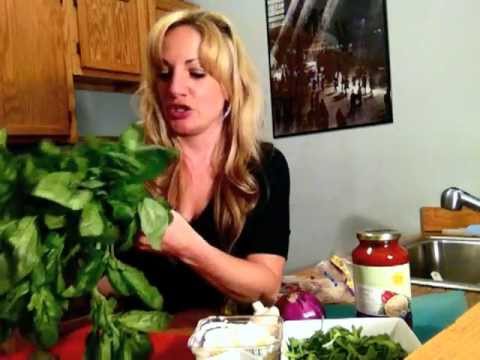 INGREDIENTS (Per Pizza):
– 3 Tablespoons of Spaghetti Sauce or Pizza Sauce (low sugar, so about 11 or less carbs per serving)
– ¾ Cup Shredded Mozzarella Cheese (hormone and antibiotic free)
– 1 Low-Carb Tortilla, medium sized (about 11-13 carbs per tortilla— not Net carbs, Total carbs)
– 3 to 5 Favorite Goddesslike Toppings* (onions, tomatoes, bell peppers, fresh basil, mushrooms, artichokes, olives, etc.) Asterisk explained at the bottom.
– Non-Stick Cooking Spray
– Pizza Seasoning – optional (Italian Seasoning or dried Oregano works too)
INSPIRATION:
A) You can keep it simple and make a Margherita Pizza of the Goddesses, topping it with 3 to 4 fresh basil leaves and 3 to 4 thin slices of tomato. It's a gorgeous combo on its own.
B) Today, we're going for the bonus round (it's just been one of those days) and also topping it with red onions, mushrooms, olives, tiny dollops of ricotta cheese and (after the pizza comes out of the oven) arugula.
DIRECTIONS:
Preheat oven to 350 degrees. Cover a pizza pan or cookie sheet with tin foil (but don't spray it with any oil or non-stick cooking spray or your pizza won't be as crispy).
Slice your veggies extremely thin (again to keep from weighing down the pizza). You only need about 3 or 4 slices of each of your toppings (with something as small as olive slices though you can use a dozen or so).
Now here's The Secret to making Pizza of the Goddesses:
Grab a pan that's big enough that it will fit the entire tortilla if you laid it down flat, and heat that pan on the stove over medium-high heat (but don't put the tortilla in yet). After about 2-3 minutes, spray that pan with cooking spray and lay the tortilla down flat right away. Then, grab a pot lid that's roughly the size and shape of the tortilla and use the lid to press the tortilla down into the pan, smushing out any bubbles that pop up in the tortilla. Do this until the bottom side of the tortilla is golden brown (about 3-5 minutes) and then flip the tortilla and do the same thing to the other side. If it's crispy, you've nailed it! You're just minutes away from sinking your teeth into a gorgeous, guilt-free, thin crust pizza—The Pizza of the Goddesses.
Now just put your crispy "crust" on your foil-covered pizza pan or cookie sheet and spread a very thin amount of sauce (I mean barely enough to cover most of the tortilla, like you're just painting a thin coat). Then, sprinkle the shredded cheese on top, again just enough to cover it. Add your Goddesslike Toppings* sparingly, just enough to cover the crust (with our bonus round pizza, 4 tomato slices, 4 basil leaves, 5 onion slices and 5 mushroom slices, and 12 olive slices does the job). Then, top it off with 4 to 5 nickel-sized dollops of ricotta cheese and your seasoning sprinkled lightly over all of it.
Put the pizza in the oven (middle rack) uncovered for about 10-12 minutes at 350 degrees. Just keep an eye on it. You want it to bake long enough for the cheese to melt and the veggies to slightly soften/cook but not too long or the tortilla could burn.
Then, once it's done, if you're going the arugula route (which I highly recommend), place a handful of it on top and be amazed. The cold crisp greens against the warm, melty-ness along with the delicate crunch of the thin crust is so incredible, your eyes will involuntarily close with each bite just so you can wrap your head around the miracle that is in your mouth.
The Asterisk Explained:
*Goddesslike Toppings pretty much include any vegetable or fresh herb. Chicken (cooked and cut into cubes or shredded) is also a fabulous addition to add protein. If you're absolutely dying for sausage, try to find an all-natural chicken or turkey sausage (without hormones, antibiotics, or nitrates) but let's steer clear of pepperoni (too greasy) and pineapple (too high in sugar). Keeping your pizza up to Pizza of the Goddesses standards will keep you feeling like a Goddess after eating it.
Enjoy!